Working together for the client...
We realize your client is important to you and you value that relationship. We do as well, and also understand that's why we're here. We value our relationship with Agents as well and encourage feedback on anything you feel would improve our service or share any ideas.

To give the client greater peace of mind, we include several warranty's free of charge with our inspections. So we extend to them a 90 Day Warranty providing limited coverage time and amounts but a wonderful value.

We extend a Mold Safe Warranty so if existing mold or water infiltration was not found, any new mold would be covered.

We've added a free Sewer Guard policy. General home inspections typically would not include adding a scope through the sewer line or full visual inspection of the main water line as is typically buried so this policy gives added coverage.

Also included is a 5 year Platinum Roof Leak repair warranty providing 5 years of leak repair coverage.

If we do a Radon Test, we provide a Radon Warranty or if we do mold testing, we warranty those results.

After the inspection, we'll still be there to help by offering the Homeowner Resource, a service which will provide the client with free assistance should they have maintenance or other questions about the home after the inspection. During our inspection, we will record pertinent information regarding the properties major appliance and enter that information into Recall Chek website, this way the client will be notified if any manufacturer recall exists and there's even assistance getting the manufacturer to provide free in home repair. This service will also keep the homeowner advised of future recalls with a newsletter sent out only once a month. This newsletter will also include maintenance tips and other relevant information.

Recall Chek will also include your information and a photo if you like in the monthly newsletter which acts as a reminder your services are available or great for a friendly referral. Just click the button below to register with Recall Trak and your information will be included in the newsletter, it's also free for the Agent.
---
Click below for FREE marketing
RecallTrak gives you, the agent, the ability to customize our only once monthly newsletter style email sent to your past clients. Detailing recalls on their recorded appliance from our inspection. Once registered, you can preview the newsletter we're sending out each month, customize a section of the newsletter reserved for you the agent and can include a photo. Register now to get your name in front of your past clients every month. Its free and takes minutes to set up!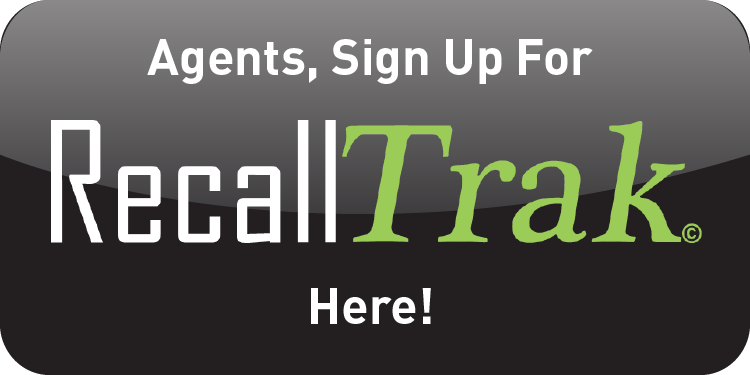 ---
Our Inspectors carry the Supra eKey
Inspectors have Supra Keys for access! Agents, we can save your valuable time or that of your unavailable or out of town client. We're more than happy to provide inspections at any time if at all possible. Just call us and will will do all we can!
Rest assured, our InterNACHI Certified Inspectors are backed by InterNACHI's 10,000 dollar Honor Guarantee!
We like to walk the roof if at all possible but sometimes it's not practical or safe. Some roofing material can be damaged if walked on or weather may not permit. Our Inspectors have telescoping Spectoscopes with wireless cameras for such cases. We also have drone services. No matter the roofing situation, we have you covered.
---
Our Inspection Agreement indemnifies the Agent
HOLD HARMLESS AGREEMENT: CLIENT agrees to hold any and all real estate agents involved in the purchase of the property to be inspected harmless and keep them exonerated from all loss, damage, liability or expense occasioned or claimed by reasons of acts or neglects of the INSPECTOR or his employees or visitors or of independent contractors engaged or paid by INSPECTOR for the purpose of inspecting the subject home.
---
Free Negligent Referral Protection for Real Estate Agents
InterNACHI is so sure of its inspectors that it will indemnify any licensed real estate agent in an amount up to $10,000 if a third party successfully sues the agent for negligent referral of an InterNACHI inspector. This protection is offered at no cost to agents who register.
---
Free Online Continuing Education for Real Estate Agents
Georgia licensed real estate agents can attain free, online Continuing Education approved by the Georgia Real Estate Commission by taking the following free, online courses: 1). Home Energy Efficiency for Real Estate Professionals - Course #67460. Expires January 25, 2020. 4.0 Continuing Education Credits. 2). "Saving Home Energy for Real Estate Professionals" - Course #67459. Expires August 27, 2017. 3.0 Continuing Education credits.
---